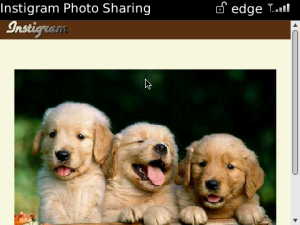 If the IOS operating system and applications have Instagram Android, BlackBerry users may be a little relieved by the presence of an application called Instigram.
Yes, you did not misread. His name is so, Instigram. I know it is different with Instagram, but at least can also share photos via Twitter and Facebook.
Maybe that was previously made ​​using the application developer JaredCo ShareIt, had known of this application. The real reason is that now the application ShareIt renamed Instigram.
How it works is quite simple Instigram. Simply capture an image, then just enter your Twitter account or Facebook to share the photos.
To upload photos to this Instigram can be directly executed through the menu on the BlackBerry. From the home screen just press menu, then select Instigram photo.
This free application can be downloaded from BlackBerry App World
Related Articles